Designing with your own emotions in mind can be a difficult thing to do, designing for somebody else's emotions can be even harder. By using the skill of emotional literacy, defined as "The Ability to understand and express feelings", gives us the ability to generate products, systems or recourses that can enhance the life of a particular target audience. Emotional literacy, also known as emotional intelligence, is a skill developed from birth and encapsulates areas such as empathy, sympathy and emotional expression. Elaborating on Harold Gardiner's 'Theory of multiple intelligences', Victorian education defines emotional literacy as "The ability to understand ourselves and other people, and in particular be aware of, understand, and use information about the emotional states of ourselves and others with competence".
 This poses a large area for design research, focusing on the following:
Allows for people to understand themselves and others
Development of early learning and new emotions
Understanding of social settings and interactions
Allows for an earlier emotional connection
Allows for the projection of individual emotions and language
Develops actions of empathy and sympathy from a young age
This particular tactic of Emotiacy means that designers are able to identify this critical stage in emotional development and produce ways in which people are able to develop these skills or approach their own emotions in a comfortable, familiar way. If through design we are able to infuse emotional literacy, we are then able to create a greater insight into our target audiences and develop products better suited to those we design for.
Through research, it has been evaluated that those with a greater emotional connection to any particular person, item or system are able to fulfil that interaction with a higher level of happiness. If we as designers are able to harness our own emotional literacy, we are able to increase the positive impact of these interactions. If we are then able to identify any weaknesses in emotional literacy of our target market, we are able to develop products to in turn increase these set of skills, allowing people to "increase the ability to understand and express their feelings."
When looking at cases such as autism and early child development, the early development of emotional literacy is crucial, giving these children the ability to interact in a social setting, understanding and reacting to the emotions of others.
This concept allows designers to ensure the emotional literacy hasn't been lost when their target market interacts with the product.
Mooshuns are feelings – feelings you can see, touch, hold, and feel. Our emotions are never clearly defined with neat, sharp edges or outlines so neither are Mooshuns."
Mooshuns are moody cushions. They have a range of alternate physical moods, spanning from anger to happiness or sadness to confusion. These moody cushions are a tactile learning tool that allow users to develop empathy and comprehension towards emotions in circumstances when words aren't available. Assisting in emotional intelegence, Mooshuns act as a learning tool, primarily for children, to express their emotions in a comfortable, fun way.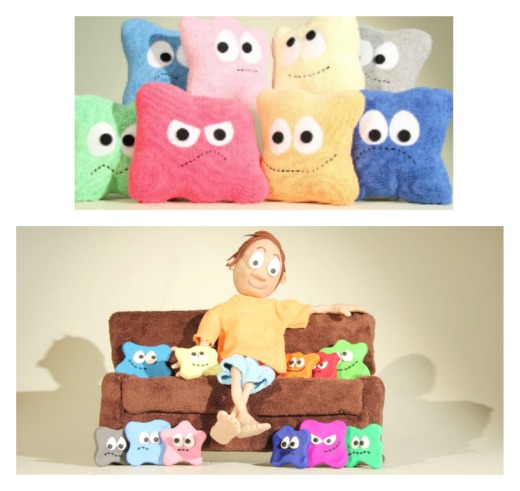 Throughout the time of television, children's television has become an every developing, growing market. These television shows are a fantastic learning tool for developing children, pre-schoolers and children with learning difficulties. 'The wiggles', 'HI 5' and 'playschool', just to name a few, are shows that provide learning through a fun and engaging way. All three of these examples include some form of emotional literacy within them, allowing children to witness and in turn practice these skills whilst engaging in an active, safe and fun environment. A lot of these programs also have online programs for children to go back to and learn from.